Beijing, China
4 Days, 2 Families, 5 Kids

If you plan to visit China, Beijing should definitely be on your itinerary. It is the political and cultural center of China. I went to Beijing with my 3 boys, ages 9, 11 and 13 and another family with 2 girls ages 11 and 13.

Hotel: Grand Hyatt Beijing
We stayed at the Grand Hyatt exclusively because it has a fantastic pool for the kids to swim in. We realized that this trip would involve a lot of historic temples, and palaces so we wanted to give them something to look forward to at the end of the day.

Tour Guide: Barry Xu @ Hi-tour International Travel Service
Cell Phone: +86 139 0110 7220
Phone: +86 10 6396 1002
Barry was great. His English is terrific and he is well versed on the history and importance of the places we visited. He worked very closely with me to fine tune our itinerary, he arranged our car and driver and organized our days so we could see the things we wanted to see within a very tight timeframe.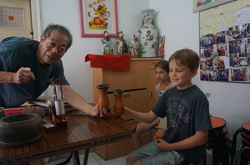 Day 1: Arrival and Hutong Tour
Hutongs are traditional residential areas in some Northern Chinese cities. The Hutongs in Beijing are an endangered species, as many of them were razed to make way for roads and newer developments. Many of the remaining Hutongs are now protected by the government and have become a popular tourist destination. Hutongs can be visited on foot, but are commonly traversed in pedicabs or rickshaws.

We traveled via rickshaw through the narrow alleys and stopped to visit a family living in one of the larger courtyard houses. Apparently, this stop is part of the Hutong tour. At the house, you can glimpse the life of the people living in these neighborhoods. I have to admit, it was an odd experience and I was a bit uncomfortable. The family we were visiting did not speak any English so our guide had to do all the translating.

After the visit with the family, we went a few doors down to the Cricket Man. He is an ancient man who has been breeding and fighting crickets since he was a boy. He is extremely self promoting but if you can get through that, he is very interesting. Our kids had a great time.
After the tour, we checked into our hotel. We ate at the hotel dinner buffet (very ordinary- not amazing) and let the kids swim.
Notes: Make sure to tip your rickshaw driver.

---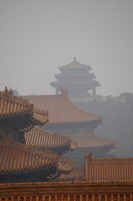 Day 2: Tiananmen Square, Forbidden City, Summer Palace, Kung Fu Show

Tiananmen Square, the Forbidden City and the Summer Palace are all mandatory on any Beijing itinerary.

I have it on good authority that small children enjoy the Kung Fu Show (we saw the one at Shichahai) but our kids (ages 9-13) thought it was "dumb" and "boring". So did the parents.


---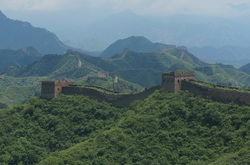 Day 3: Great Wall Hike
We used an amazing group,
Great Wall Hiking
, to organize our hike. They took us on a 10K hike that started in Gubeikou and finished in Jinshanling. We were incredibly lucky with our weather. It had rained the night before so we had clear blue skies and fresh air.
Notes:
* The restroom facilities are decent. As always when traveling in Asia, bring your own toilet paper.
* We did this hike with 5 kids ranging between the ages of 9 and 13. It is not a walk in the park, so if you or your kids have any difficulty hiking 10K, reconsider this itinerary. GWH has many options to choose from.
Tips:
* Bring snacks. They provide candy bars, so if you want something healthier, you should bring it.
* Bring additional drinks. The guide will tell you to bring 2 bottles of water each. It may seem like a lot to carry, but if it's warm, you'll want the hydration.
---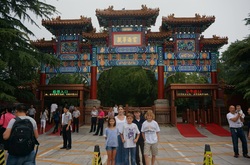 Day 4: Yonghe Temple (aka Lama Temple), 798 Art District

---